The 2.11.0 release of DAX Studio is now available and brings with it the following new features and fixes.
New Preview Features
There are 2 new preview features this month, so you need to go into Options > Advanced and enable them if you want to use them
Query Builder
When enabled, the Query Builder appears as a button in the main ribbon

It lets you drag and drop columns and measures to build up a query which can include basic filters. You can also add custom measures or override the expression of a measure from your data model.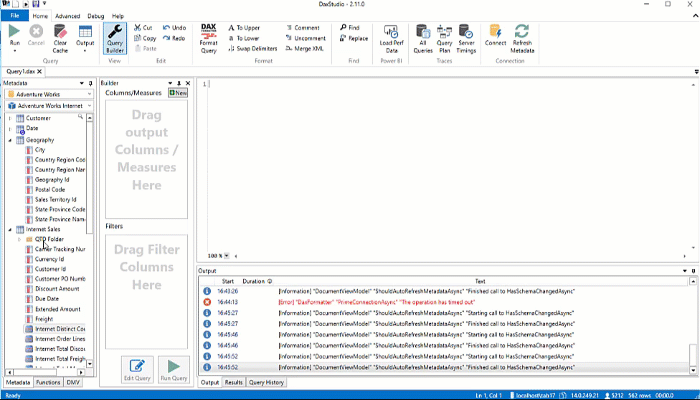 You can either run the content of the query builder directly or you can click the "Edit Query" button to send the text for the query to the main editor window where you can run it or further customize it.
Query Benchmark
The Query Benchmark tool appears as a button on the Advanced ribbon. It allows you to run a given query a number of times both against a cold and warm cache. This is useful because even on a quiet development server there can be a number of factors that can cause variability in the server timings.
The Benchmark feature makes use of the Server Timings functionality to record detailed information about each query execution.

You get the option of how many runs of cold vs warm cache (and by default these are linked)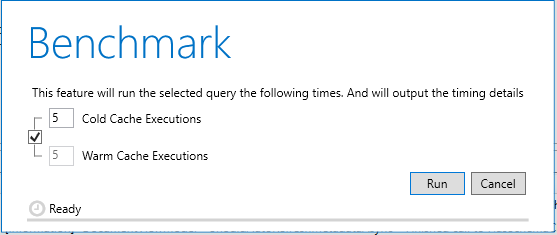 The output of a Benchmark run shows a summary view with the Avg, StdDev, Min and Max of both runs for the Total Duration and the Storage Engine Duration

The detailed output shows the timings of every single query execution.

New Features
In addition to the two big features above there are a number of smaller features that have been added in 2.11.0
#314 Added 3 Quick Access buttons for

New
New (with current connection)
Save

#277 Added Export button to all trace outputs
Added full filename tooltip to tabs (thanks @dmarkle)
Promoted View Metrics (Vertipaq Analyzer) from preview status to general availability
Promoted Export Data feature from preview status to general availability
Documentation Updates:

Added license page
including a section on SmartScreen issues in Win10 (thanks to Gilbert at fourmoo.com )

Updated syntax highlighting to align with DaxFormatter.com
Added a note in the Database tooltip that the Database Id can be copied using a right-click
Added formatting to shorten asazure: and powerbi: server names in the status bar so that the key information is visible
Added a partitions tab to the Model Metrics views
Added a sample of any missing keys to the relationships tab in the Model Metrics (these keys are not saved for privacy reasons when exporting to a vpax file)
Fixes
fixed cancelling of exports to SQL Server
improved keyboard navigation by adding IsDefault/IsCancel properties to dialog buttons (thanks @dmarkle)
fixed an issue with intellisense not re-enabling after reconnecting (thanks @dmarkle)
fixed an issue with Query History pane not updating the "Current" Database filter when changing databases
disabled external tools when connected to PowerPivot
#290 updated all URL references to use https (thanks @warthurton)
#291 fixed issue connecting from Excel 2010
#301 refined the code completion to prevent it overwriting code when editing in the middle of an expression
#302 disabled column re-ordering in Metrics view
#303 fixed an issue with the metadata pane when connecting to a model with dynamic format strings defined in calculation groups
#308 removed backtick characters in column names with spaces where using the Static Excel output
#320 fixed server not found error when exporting vpax file for PowerPivot models
#325 fixed error when attempting to connect to PowerPivot files stored on OneDrive
#329 fixed incorrect database name shown when launched from the Excel addin and not connected to PowerPivot
#330 fixed the status message getting stuck after writing output to a file destination
#339 fixed a bug that reported an assembly load error when Cancelling a query